by Bethany Thomas
At Toddler Time today we read Valentine's and winter books including: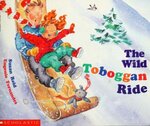 "The Wild Toboggan Ride" by Suzan Reid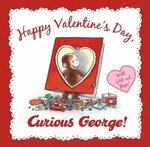 "Happy Valentine's Day, Curious George!" an extra fun Curious George story with fold out flaps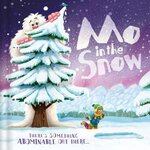 "Mo in the Snow" by Melanie Joyce. A story about enjoying the snow and making a new friend, who happens to be a giant!
The kids made squish paintings- we folded a piece of paper in half, laid it flat, and painted one side. Then the kids folded the paper over again and squished the paint flat. When you open the paper you have a squish painting.
The kids also made hand prints, painted with their fingers and with a brush, and learned about mixing colors. Exploration with paint is wonderful fine motor work and can also be sensory play.
Every Toddler Time provides kids with time to play and interact with each other and for adults to visit. Join us from 10 – 11am every Friday!
Toddler Time patrons are welcome to check out books and more while they are here! Did you know we have puzzles, games, and much more to check out? Follow this link to see the list of games in our catalog.
Other patrons are welcome to visit the Library beginning at noon on Fridays: Library Hours