by Bethany Thomas
Last Friday at Toddler Time we read Gingerbread Baby by Jan Brett
What a fun story! "It all begins when Matti opens the oven too soon and out jumps a cheeky little Gingerbread Bay. He leads Matti's mother and father, the dog and the cat, and a whole colorful cast of characters on a rollicking chase through the village and into the forest, staying just out of reach, daring them to catch him along the way."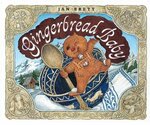 The images in this book are amazing! The kids enjoyed finding the Gingerbread Baby in each image. Gingerbread cookies made a great treat to go with our story.
We used our fine motor skills to make pipe cleaner wreaths. Picture coming soon!
Toddler Time is 10am – 11am every Friday. The Library opens to all patrons at noon on Fridays; Friday mornings the little ones rule the roost.
We will not have Toddler Time the last two weeks of December.