TEXAS  everything is BIGGER in Texas.  The Library in Medina, TX showed us that when they sent us their package for our Countdown to the Census giftbox.  http://www.medinacommunitylibrary.us/
We were thankful for every gift we received.  Thank you to all the patrons in Medina for coming together to make our day.
 Reading List: EPIC Texas
Math: During the pandemic each Library has had to make changes to meet their local health standards.  We have published as part of our blog everything from museum tours to Youtube videos during Covid.
D Brown Memorial Library in Rosebud, Texas has a great math option for at home right now.  https://www.dbrownlibrary.org/kids-teens/kid-s-corner/math-fun.html
Check out their Kids and Teens Math Corner.
3. Science:  The Fort Worth Museum has joined Youtube.   FW Museum  
https://www.youtube.com/FortWorthMuseum
They have several great discovery videos. Watch one and discover fun!
4.Writing: Texas Woman's University has some writing prompts for COVID.   Writing is important for all age groups.  It not only helps with our reading, but it keeps a general record of our life.   Parents:  if your child is to young to write consider asking these prompt questions and having them draw a picture.
Everyone has a different story and we want to hear yours! Below are some ideas of topics to write about from your COVID-19 experience.
Feelings
What are some things that make you anxious or frustrated right now? Are you mourning what used to be normal?
What are you thankful for right now? What brings you joy?
How are you coping with the changes?
Home Life
What is/was your situation at home? Who is/was home, working from home, or working outside the home?
Are/did your relationships with your family and friends changing while sheltering in place?
Are/were you taking care of children, a high risk individual, or a senior relative while juggling classes and/or work?
What is/was happening in your daily life at home? How are/were your parents/friends/partners/etc doing?
How has/was your experience getting everyday items like groceries and household goods (cleaning supplies, paper goods, etc.)? Have/were there been shortages?
School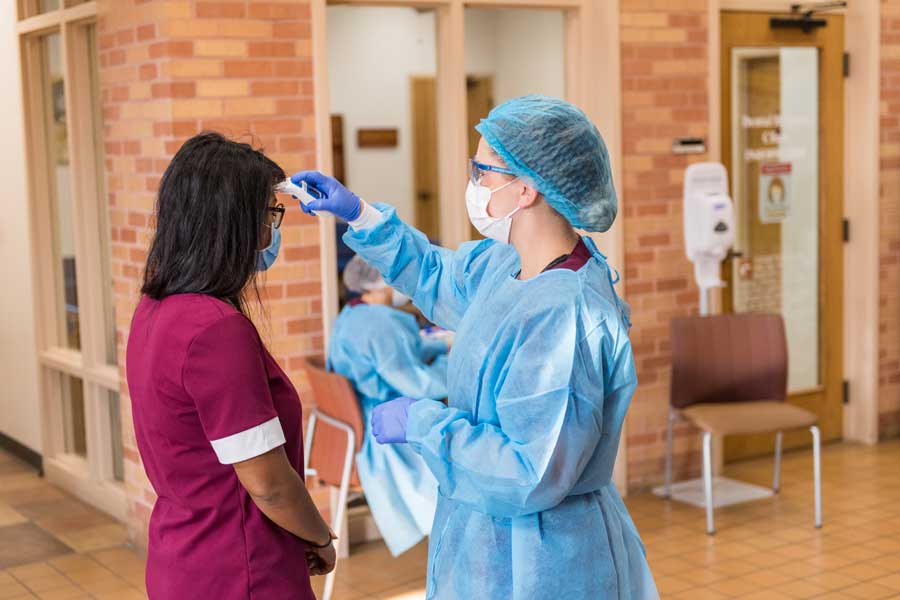 Are you a student? How did you handle the transition to online classes?
What kind of messages have you received from professors?
How are other students handling the changes?
Are you a parent that had to teach your children? What was your experience?
Are you involved in student organizations, sports, or clubs? How has COVID-19 and campus responses affected those?
Did you live on campus? Did you have to move or did you stay on campus?
Health
Did you get sick? Did anyone you know get sick?
What symptoms were there?
What was the response from medical personnel?
Was COVID-19 testing accessible?
5. History: Texas history may include the Bush family.  Bush Childhood Home
For a fun activity gather up 5 interesting facts about each President.  How many were from Texas?
6. Art:
"The first is to get them active. This may involve doing something with their body or with their mind. For example, you may want to go outside for a walk, dance a little, or play an outdoor game they enjoy like soccer, basketball or just throwing a football back and forth. It might also be something fun and distracting like playing a game, watching a funny video, doing an art project or trying a new recipe. Finally, sometimes kids need a little bit of relaxation time or space." Be creative!  Let your kid be creative.  Texas Children's
Little Bonus to spice up your Zoom meetings.   Witte Museum has added several downloadable backgrounds that you could use during Zoom Meetings.  You could make it appear you are at the Witte Museum.  Witte Museum Backdrops
7. Book Pick: Shame The Stars
"In the midst of racial conflict and at the edges of a war at the Texas-Mexico border in 1915, Joaquín and Dulceña attempt to maintain a secret romance in this reimagining of Romeo and Juliet"–
Instagram: Texas