Lights on will be held at the Donnelly Bible Church.
Proclamation Keeping Lights on After School
This event is sponsored and funded by
Here are some of our participants in Lights ON!
Celebrate the 24th annual Lights On Afterschool Oct. 26th, 2023!
Launched in October 2000, Lights On Afterschool is the only nationwide event celebrating afterschool programs and their important role in the lives of children, families and communities. The effort has become a hallmark of the afterschool movement and generates media coverage across the country each year.
October 26, 2023
Since 2000, Lights On Afterschool has been celebrated nationwide to call attention to the importance of afterschool programs for America's children, families and communities. Our programs make a difference for the kids, families & communities they serve every day. Afterschool and summer learning programs keep kids safe, inspire them to learn and help working families. Join the nationwide celebration! And join the Idaho Out-of-School Network in recognizing the 2022 Lights on Afterschool Champions at the 2023 Power Up Summit on September 20 and 21, 2023.
The Afterschool Alliance organizes Lights On Afterschool to draw attention to the many ways afterschool programs support students by offering them opportunities to learn new things—such as science, community service, robotics, Tae Kwon Do and poetry—and discover new skills. The events send a powerful message that millions more kids need quality afterschool programs.
These are photos from our 2022 Lights On! Event.

Last year turned the LIGHTS ON! and celebrated our After-School Program. We invited Community Leaders and Parents to come check out our program. We hosted Sherry Maupin our County Commissioner and Joey Pietri who is running for County Commissioner. We also had over a dozen parents come and eat pizza, enjoy cotton candy and learn about our program.

We are happy to have partnered this year with ION the Idaho Out Of School Network. The Idaho Out-of-School Network's (ION) mission is to ensure Idaho's youth have access to high quality out-of-school (OST) programs. ION


Grants Awarded to Expand Youth Enrichment Programs
Boise, The Idaho Out-of-School Network (ION) today announced new grants totaling more than
$1.5 million to youth programs across the state. ION's Enrichment Grants range from $20,000 to
$135,000 per program. Funds will be used to hire educational staff, increase enrollment and
expand academic, social and emotional learning services for K-12 youth.
The list of 21 grantees reaches across the state and includes school districts and community
groups. Each grant will serve youth during the 2022/23 school year and in the summer of 2023.
The director of ION, Anna Almerico says, "This is an amazing opportunity for afterschool and
summer programs to help families across the state. These programs help keep kids safe,
inspire them to learn, and offer parents greater peace of mind. Studies show that for every
Idaho child in an afterschool program today, four more are waiting to get in."
"These grants are crucial as we try to grow these important youth programs. Kids in Idaho need
more support in out-of-school time to meet their full potential."
The funds came through the Idaho Department of Health & Welfare from the Coronavirus Aid
Relief and Economic Security Act (CARES), the Coronavirus Response and Relief
Supplemental Appropriations (CRRSA) and the American Rescue Plan (ARP) Act of 2021.
West Central Idaho:
Donnelly Public Library – Donnelly – $135,000 – Dedicated to providing a welcoming, enriching
and comprehensive learning center to provide diverse resources to promote literacy, education
and enrichment. Contact: Sherry Scheline
Horseshoe Bend School District – Horseshoe Bend – $75,000 – Uniting our school, families,
and community for young people's success. Contact: Kelsey Williams
Payette Lakes Community Association, Inc. / PLCA 4 Kids – McCall – $68,448 – Providing
safe and affordable programs that engage, educate and enrich children with focus on fostering
character development and academic achievement by providing safe spaces, positive guidance
and educational opportunities. Contact: Ashlee Fliney
Basin School District – Idaho City – $57,990 – Educating today's children for tomorrow's world.
Contact: Brian Hunicke

We are celebrating the last year by having a PARTY!   We hope that we can be in the brand-new gym, but are waiting on some occupancy approval.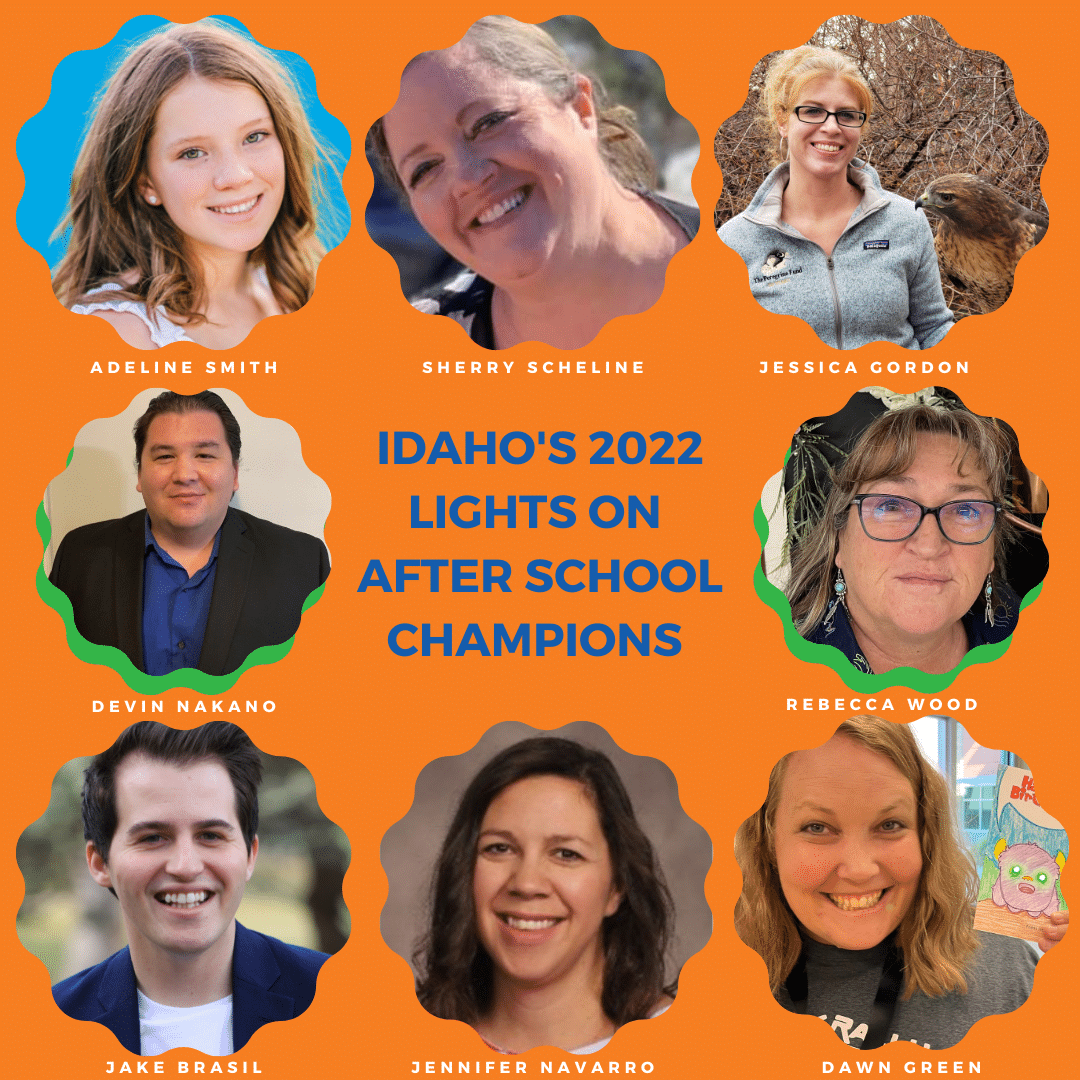 We are excited to honor our very own Library Director, Sherry Scheline, who was nominated as one of Idaho's After-School Champions.