Today we read Sarah's blog post Pink Suitcase Adventures: Day 2 Egypt with Ms. Sarah. Miss Sherry talked to the kids about the Rosetta Stone and antiquities. Antiquities are from the ancient past, most often referring to the time span 800 BC to 500 AD in the areas around the Mediterranean Sea. The kids had different ideas on what antiquities might be (they were mostly correct!) and what people in the future might find from our civilization. The kids shared clothes and how clothing in different environments would fair, tires, plastic water bottles, and more.
Miss Abbie read chapter 2: Etched in Stone from Accidental Archaeologists by Sarah Albee, about the Rosetta Stone. Tomorrow the kids will learn about hieroglyphics.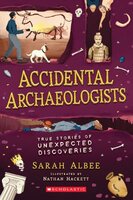 We learned more about the process of making papyrus paper and discussed the differences between modern paper and papyrus. The kids looked for threads in modern paper (there aren't any!). We looked at color, texture, and flexibility differences.
Strands of papyrus soaking:
Papyrus paper: