Miss Sherry and Sarah along with 15 others from the Donnelly Library traveled to Egypt.
Today we got to visit with Miss Sherry over video while she's in Egypt! There is a big time difference between Donnelly and where Miss Sherry is; 9 hours! The kids were amazed how late it was there and thrilled to get to see the view of the area Miss Sherry and Miss Sarah are staying in. Then we read Sarah's blog post Pink Suitcase Adventures: Day 1 Egypt with Ms. Sarah and Bill and Pete Go Down the Nile by Tomie dePaola
During a hearty snack of hummus, chips, croutons, and spray cheese, the kids learned that hummus is made of chickpeas, garlic, and lemon as well as a little about the history of hummus. You can read about it here History of Hummus.
The kids learned about papyrus in preparation for making paper this week.
They each chose where they would like to visit for an imaginary trip or shared where they will be traveling to on spring break. Locations ranged from the Oregon coast to Mexico to Yellowstone to Wisconsin to baking at a friend's house. Miss Bethany helped the kids search for books related to their location and taught them introductory call number reading skills!
Today was National Pi Day! π is equal to 3.14 We enjoyed apple and peach pie and learned that Pi is used in mathematical equations involving circles and spheres. Learn more about Pi at Pi Day – What is it?
March 15th:
Today we read Sarah's blog post Pink Suitcase Adventures: Day 2 Egypt with Ms. Sarah. Miss Sherry talked to the kids about the Rosetta Stone and antiquities. Antiquities are from the ancient past, most often referring to the time span 800 BC to 500 AD in the areas around the Mediterranean Sea. The kids had different ideas on what antiquities might be (they were mostly correct!) and what people in the future might find from our civilization. The kids shared clothes and how clothing in different environments would fair, tires, plastic water bottles, and more.
Miss Abbie read chapter 2: Etched in Stone from Accidental Archaeologists by Sarah Albee,about the Rosetta Stone. Tomorrow the kids will learn about hieroglyphics.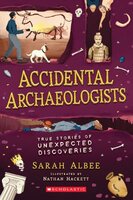 We learned more about the process of making papyrus paper and discussed the differences between modern paper and papyrus. The kids looked for threads in modern paper (there aren't any!). We looked at color, texture, and flexibility differences.
Strands of papyrus soaking:
Papyrus paper:
March 16th:
St Patrick's Day, papyrus paper making, hieroglyphic names
snack: corned beef and cabbage